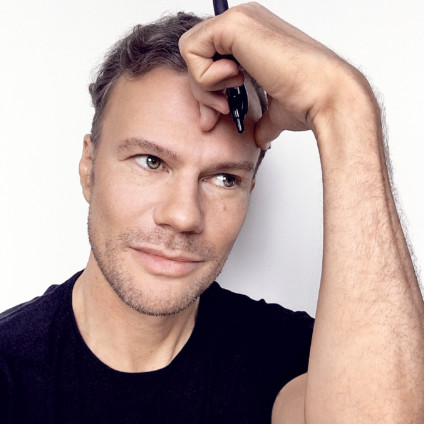 IIRO A. AHOKAS
Industrial Design
Ceramics
Glass Art
Graphic design
Director
Designer
Artist
Craftsperson
Speaker
Teacher
IIRO A. AHOKAS (iiroaahokas.com), the founder and design director of ATELIER AHOKAS (atelierahokas.com), is an internationally award-winning Finnish designer & design professional who holds an extensive experience in designing consumer goods in collaboration with leading brands. For the past 26 years Ahokas has helped his clients across the lifestyle industries build their companies by developing successful products and surface designs that have been retailed worldwide in around forty countries. His collaborations include e.g. Audi, Kohl's, Unilever, Crate & Barrel, Iittala, Arabia, Marimekko, Stockmann, Richloom Fabrics Group, 4murs, Kageyama, Lune D'eau, Design House Stockholm, CarpetVista, Burda, SENSE EIGHT, Enomoto, Tkano, Ugépa, Sandudd, Leaf, S Group, Hackman Designor, Kesko Corporation, Raisio Group, Anno Collection, Vimmacompany, Frenn, and Aalto University, to name a few.

Ahokas works internationally on design and art projects that vary between industrial production and handcrafted one-offs. His work is focused on creating bold, alternative and dynamic lifestyle products such as tableware, rugs, interior textiles, wallpapers, lighting, furniture, paper goods, apparel, shoes, bags, jewellery and accessories. Ahokas is renowned for modern surface pattern and colour designs that he has created for companies operating in the sectors of consumer goods and marketing. He has created alone for the iconic Finnish Marimekko textile and clothing house over fifty interior design products since 2006.

Around 400 publications and media have featured Ahokas' work internationally. His work has been exhibited across Asia, Europe and United States in design fairs, events, and museums such as The Museum of Modern Art MoMA, Murano Glass Museum, la Casa dell'Architettura Roma, Pitti Immagine Uomo, Notojima Glass Art Museum, Design museum Gent, Stockholm Furniture Fair, IMM Cologne, Design Museum Helsinki, Habitare, and Messe Frankfurt.

Ahokas has been recognized with a number of awards, grants and scholarships including the prestigious "Europäisches Kolleg der Künste / European Academy of Arts" which is one of the most outstanding European awards in the field. He has been ranked as the "World's Leading Designers" by Taschen Publishing and honoured in "The Year's Most Ingenious Products" by I.D. the International Design Magazine. He has also been awarded "THE K.E.N.K.Ä" shoe designer of the year prize and the international "CarpetVista Design Competition" award. 

Ahokas' professional spectrum expands to academic dimension in the form of lecturing. He has contributed on the current multidisciplinary design education as a lecturer in Industrial Product Design at the University of Art and Design Helsinki. Ahokas has also held a lecturer's position at Aalto University School of Arts, Design and Architecture being in charge of the experimental design education in the MA Degree Programme of Applied Art and Design. (2007-2014.)

Born in 1976, Ahokas took his Master of Arts Degree from the University of Art and Design Helsinki in 2001. He is currently based in Helsinki and works internationally on commercial and self-initiated projects, open to new possibilities, ideas and collaborations.

Please contact to discuss any project or media inquiries.
Experience