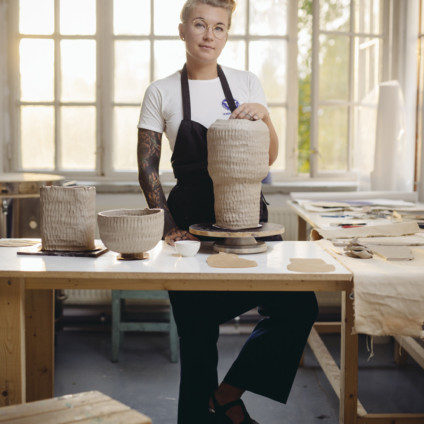 Laura Pehkonen
Ceramic Art
Ceramics
Crafts
Public Art
Artist
Teacher
ceramic- and visual artist
Laura Pehkonen (b. 1985)  is a ceramic and visual artist living in Helsinki, Finland. She graduated as a master of arts from Aalto University in 2014. Pehkonen is best known for her characteristic ceramic and wooden sculptures as well as public art pieces. At the heart of Pehkonen's work is the creation of abstract unique works using and combining different arts and crafts techniques. In her sculptures, rough hand-built textures are often accompanied by a plentiful layering of glazes and colors. 

"In my works, I explore contrasts, proportions, the rhythm and balance of the work, and the feeling of presence. Regardless of materials or techniques, I am experimental and curious when I work. Instead of repeating the same thing, I stimulate myself by working with several different techniques and materials and exploring their dialogue in my works. Currently I am inspired to combine ceramic materials and techniques from different eras and cultures to create a kind of worldwide and temporal map of ceramics in my works."

In recent years, Pehkonen has realized several public ceramic artworks, for example for school and hospital buildings. In addition to Finland, her works have been exhibited in Spain, Sweden, Iceland, Denmark and Peru. Pehkonen's works are included in the collections of Helsinki Art Museum HAM, Espoo Museum of Modern Art EMMA and the State Art Commission / National Gallery, as well as in private collections.

Experience