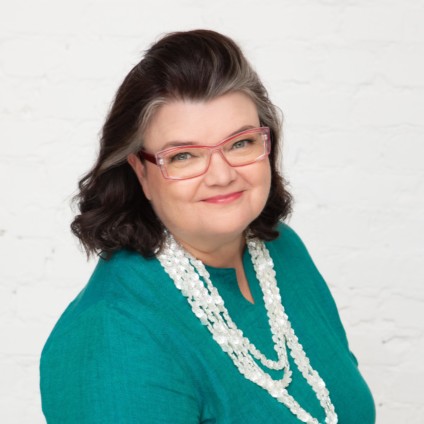 Helena Vaari
Crafts
Textile and Fibre Art
Olen tekstiilitaiteilija, käsityömestari ja muotoilija.

Suunnittelen ja valmistan taide- ja kirkkotekstiilejä asiakkaan kohteisiin. Osallistun yhteis- ja yksityisnäyttelyihin. Tekniikkani on kollaasinomaista applikaation ja vapaan konekirjonnan yhdistelmää. Ompelen erilaisia kankaita toisiinsa päällekkäin ja lomittain – maalaan ompelukoneella. Lanka on väri ja neula sivellin.

Ohuen ompelulangan kolmiulotteisuus kertaantuu, kun eriväriset langat kirjotaan yhteen kuviksi. Kuviin tulee lankojen struktuurin, kiillon ja kierteen avulla elävyyttä, voimaa ja syvyyttä. Kuvio voi olla myös graafista, langanohutta viivaa. Vaihdan langan värin ja minulla on uusi ´´kynä´´ käytössäni.

35 vuoden aikana käsistäni on lähtenyt 400 kirkkotekstiiliä 14 kirkkoon. Olen tehnyt kuusi piispankaapua. Ne kaikki tekstiilit ovat edelleen käytössä seurakuntien tilaisuuksissa.

I am a textile designer and an artist of arts and crafts.

I design and sew works of textile art for both private residence and public premises. Textiles for Churches are my specialities. I take part on exhibitions and have ones of my own.
My techniques are application, free machine embroidery and textile collage. I call it painting by sewing machine. The yarns are my colours and the needle is my brush.

The tiny yarns have special power. The yarn is three-dimensional, it has the twist and the beautiful shine. When I sew hundreds of tiny twisted yarns together, the power and the three-dimensional effect of the yarns will strengthen.

Ecclesiastical Textiles

Helena Vaari also designs ecclesiastical textiles, where the symbols and stories make an essential element. A leaf, for example, symbolizes the beginning of new life. These symbols come from the Bible. Each church is one of the kind and therefore these textiles are unique taking into consideration the architecture and the interior of the church.

Työhistoria