More info: SNOW

GALLERIA SNOW, Brunnenstraße 170, 10119 Berlin, Saksa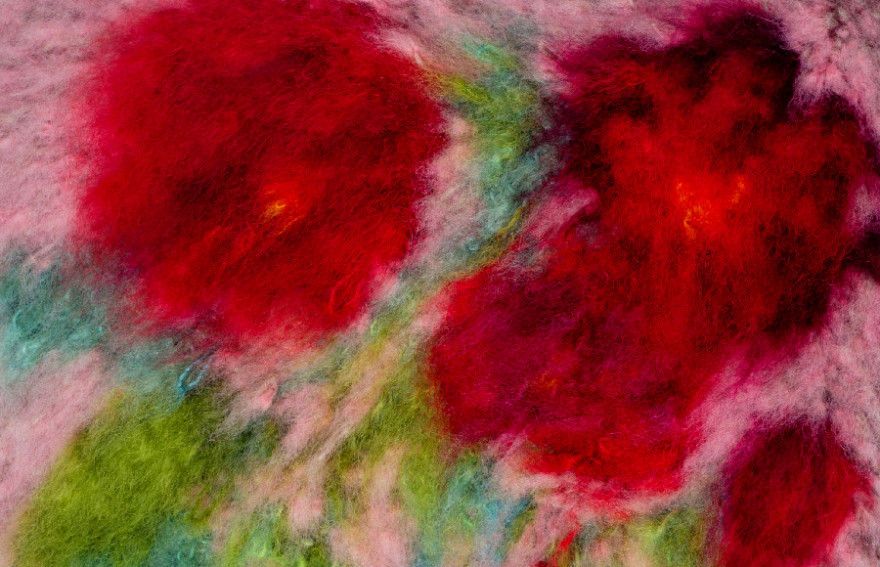 Snow is delighted to present Eternal Flame, Hanna-Kaisa Korolainen's second solo exhibition at Snow. The Helsinki based multidisciplinary artist and designer presents a vivid installation of her diverse work with textile, glass and ceramics.
"Close your eyes, give me your hand, darling

Do you feel my heart beating?
Do you understand?
Do you feel the same?
Am I only dreaming?
Is this burning an eternal flame?"
(Lyrics: Susanna Hoffs, Billy Steinberg ja Tom Kelly, 1988)
The title "Eternal Flame" is inspired by the Bangles' 1980's hit, the idea for which originated from Elvis' Eternal Flame memorial located in Graceland – symbolizing the ways that the singer forever lives in our hearts. As an artist Hanna-Kaisa Korolainen feels the same with her sources of inspiration. If something feels alive, it should not be defined as 'dead'. As long as the artist is interacting with her sources of inspiration, they remain in that state of living and transforming material and feel as if they are somehow part of the artist and her thinking. When considered as constantly mutating material, sources of inspiration can hardly be labelled as 'dead'. They are alive, they are 'eternal flame'.
Inspiration is a mysterious force that nourishes creative process. In her doctoral thesis The Making of Inspiration – From Monet to Warhol and beyond (Aalto ARTS Books 2022), Korolainen investigated how this happens and where to find inspiration. She discovered various ways to hunt it down instead of passively waiting for it. Korolainen learned to go curiously into the world, gather information and open her heart to the sources that might enlighten her creative endeavours. This exhibition illustrates some of her inspirational adventures.
Korolainen's material-based artworks source endless inspiration from traditional craft techniques such as her textiles – brushed rya rugs and digital hand-woven and -coloured jacquards – hand-built ceramics that owe to French pottery of 17th and 18th century and glass pieces made in collaboration with glassblowers Kirsi Anttila, Slate Grove, Joonas Laakso and Paulina Varis. Sources of inspiration include Japanese Rimpa school, Tarot, Finnish art of 1900 including famous painting called Ad Astra by Akseli Gallen-Kallela, that Korolainen has reinterpreted for the occasion and artist's teenage heroes from Debbie Harry to Nico. All dwelling harmoniously in the space without forgetting artist's fixation on snakes, visible in several artworks.
Ultimately the exhibition sends us to question the limitations of authorship, time and remembering.
Isn't everything functioning in an endless cyclical repetition, we get inspired by the past and something from there reincarnates in the present moment, and in its turn might inspire something in the future. This links us to each other, and washes bit away the (Walter) Benjaminian aura of an original artwork. The artist hopes that understanding the relationship between the past and the future will increase our shared responsibility towards the environment, maintaining ecosystems, and towards each other. In the artist's view, "we" is a broad concept and is not limited only to people, but rather to all living things, the boundaries of which are blurred, in accordance with the principles of animistic philosophy. What is 'past' does not disappear as long as it is remembered.
The name of the exhibition is also a homage to Flame rya rug, designed by Gallen-Kallela to the Paris World Fair of 1900. Without the admiration for that precise iconic rya, Korolainen would probably never have started to make rugs herself. It is all about inspiration!
Biography
Hanna-Kaisa Korolainen is Finnish multidisciplinary artist, designer, and researcher. She started out as a photographer, specializing in autoportraits and polaroids. She later moved to France to work in the field of fashion and nourish her aesthetic through the decadence of the Parisian rock scene, French countryside antiques markets and Saint Laurent. A decade later she returned to her native Finland, and after designing prints for Marimekko she has concentrated on art textiles (rya rugs and silk jacquards), glass and ceramics.
Korolainen has shown her artworks in exhibitions in Finland and abroad, from Beijing to Milan and New York. Her latest exhibitions include, for example, EMMA – Espoo Museum of Modern Art, Design Museum Helsinki, Craft Museum of Finland, Ostrobothnian Museum, the historical art nouveau site Hvitträsk and Collectible Fair in Brussels. In addition to her artistic practice, she teaches at Aalto University, Department of Design. Her dissertation "The Making of Inspiration – from Monet to Warhol and beyond" was published in May 2022.
Curated by Susanne Johansson