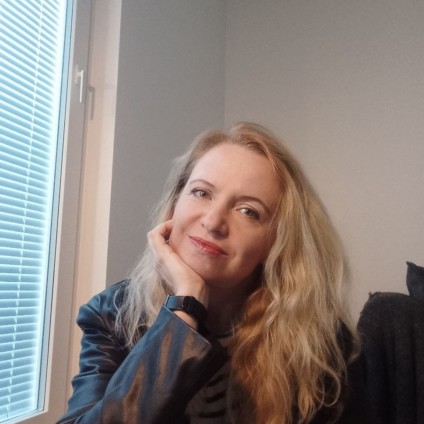 Natalia Osipova
My name is Natalia, I am an interior designer, decorator and an owner of design Finnish company Tabiti Oy.
I live in Helsinki, but I would be happy to provide design services in all European countries. I speak English, German, Spanish, Russian and puhun vahan ja opiskelen suomea.
I studied engineering, as well as interior design.
I have 20 years of experience in interior design and all these years I have been working as an entrepreneur, as well.
I work in different styles and always try to apply a personal approach to my client.
My services are different: from online consultation to design project with a full range of services.
I would like to make interior design more popular and available for everyone. I see interior design as a way to reflect your unique lifestyle and as a method of life therapy.
Ota yhteyttä
natalia@tabiti.fi
+358403751413
www.tabiti.fi
<a href="//l.facebook.com/l.php?u=https%3A%2F%2Fwww.instagram.com%2Ftabitihome%3Ffbclid%3DIwAR03CI5vLdQYCu3tGU9OG31e6bg4Ow3DRSZGIAJba9HBzas2euubVNMLCrA&h=AT1k8d8yJQx4WovLiH7gcDYqa9M_nz997i16onYtDehoRoQkwzZGfyZpejBUG9XCWScxmffMFIpNz4ukx3xYbOu3BkPAo0-Yfl8p0Au9pCJOlPYO8jZehR8YlWsjtkPfrOKIGA" target="_blank">tabitihome
Avaa Facebook-profiili uudessa ikkunassa
<a href="//l.facebook.com/l.php?u=https%3A%2F%2Fwww.instagram.com%2Ftabitihome%3Ffbclid%3DIwAR03CI5vLdQYCu3tGU9OG31e6bg4Ow3DRSZGIAJba9HBzas2euubVNMLCrA&h=AT1k8d8yJQx4WovLiH7gcDYqa9M_nz997i16onYtDehoRoQkwzZGfyZpejBUG9XCWScxmffMFIpNz4ukx3xYbOu3BkPAo0-Yfl8p0Au9pCJOlPYO8jZehR8YlWsjtkPfrOKIGA" target="_blank">tabitihome
Avaa Instagram-profiili uudessa ikkunassa
Työhistoria
Työnäytteet